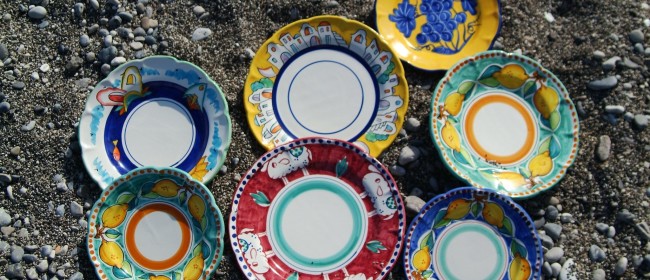 Ceramic Tour
Directly from the best factory in Amalfi Coast our guest will be able to assist and partecipate to the unique production processing of hand-made ceramic in the original laboratory.
One of the most interesting proposal adventures, that we can provide to our guests, is an extraordinary "Ceramic Tour" experience. Through this tour, you will have the chance to take part into the process of realization of the original Vietrese Ceramic! We selected the best and most colorful workshop around to let appreciate this particular form of art at its best! You will also have the opportunity to buy some pieces, or even to ship it, directly in the local store.
The tour
You will able to choose between to types of "lessons":
-The "Sculpture Lesson": in this one you may experience to realize your own piece of art! with your hands you will shape the clay on the potter giving to it the size, the thickness and the appearance that you prefer;
-The "Decorative Lesson": in this one you will receive a clay piece, already shaped and baked, presented to you as a blank canvas and you will choose how to paint and decorate it.
While you are experiencing the lesson, our expert guide will narrate to you about the history of the Vietrese Ceramic, its origin and how it became so famous and world-wide known. At the end of the lesson you will receive a little gift from us as a souvenir of this unforgettable experience!
The piece you will create or decorate it's yours! It will be ready after the technical times of baking that may  require more than 24 hours: due to this, the finished work may be taken in its "raw form", ritired or shipped once it's baked.
Avalaibility: Everyday
Extra Costs: Private Transfer if requested
A bit of history…
Ceramic in Amalfi Coast brags an important history of the XV century.
Amalfi does not own the primary material needed for the production, so clay was imported from the nearest towns of Nocera and Salerno. The further develop processing of this art comes mostly from the small town of Vietri sul Mare which, in the eighteenth century, became famous for its decorated ceramics. The many ceramic factories, as well called "faenzere" from the high heating furnace, and the several business trades with Sicily, Tuscany and other areas of the Mediterranean, allowed development and diffusion of this production that became a real modern industry!