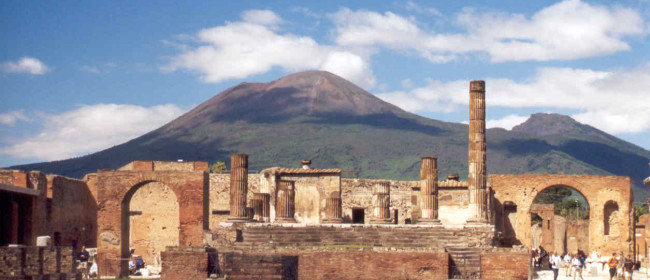 Pompeii, Herculaneum, Vesuvius & MANN
Among the wide selection of tour, we have also included the classical ones en route to Pompeii, Herculaneum and Vesuvius
The mistery and the fascination of the most famous archaeological site in the world will involve you in an exciting experience, by discovering the extraordinary wonders of the history. We will offer you the chance to choose among a very rich and interesting list of itineraries, thought and realized to guide you through the most famous and beautiful sites of the ancient cities of Pompei and Ercolano and along the sides of the majestic volcano Vesuvio.
You will be assisted by an expert and very professional guide who will explain you the historical and archaeological details about the site, by involving you in extraordinary tours, which will have a minimum time of 2 hours up to a maximum time of 6 hours.
A very unique and original experience made of history, culture and adventure able to meet every single need. We will guarantee you the most exciting and magical day by discovering the treasures of the history. These type of tours are created to satisfy every guest's needs by offering the chance to choose among an "half-day" experience or a "full-day" experience that will give you the opportunity to visits all the ancient sites.
Half Day ˜ Estimated Time of this tour: 2 hours
With the half day tour, the choose is between the site of Pompeii, the one of Herculaneum or the trip up to the Vesuvius: You will go through an extraordinary experience by visiting the most renowned archeological site in the world, guided by a professional and expert guide through the ruins and the treasures of the ancient Pompei or Herculaneum, or you will have a "trekking tour" reaching the top of the Vesuvius volcano.
Full Day ˜ Estimated Time of this tour: 6 hours
The full day tour provides a complete experience! First, there will be the visit to the ruins of Pompeii and Herculaneum, which since 1997 is a heritage site (UNESCO) like Pompei (the city was buried by the eruption of Vesuvius, preserving in this way many intact pieces), and then, in the afternoon, there is the little trip up to the Vesuvius.
***2017 New Entry***
Pompeii is an ancient and famous Roman city, which owes its fame to the destructive action of Vesuvius, which in AD 79 buried by freezing it in his last moment of life, he has given us objects of everyday Roman jewelry, as well as mosaics and frescoes of a disarming beauty. After visiting the archaeological site, one of a kind, you can make the acquaintance of the most complete ancient Romans, visiting the National Archaeological Museum of Naples (MANN), treasure chest that houses the most important collection of Pompeian objects (mosaics, frescoes and original tools of everyday life), as well as a Egyptian section, that also consists of the objects found in the town of Pompei. You can admire the Farnese collection, with Roman statues from Rome.
Extra cost: Transfer service + Entry tickets
Other fascinating Cultural Excursion
"On the trail of Spartacus" – Amphitheatre of S. Maria Capua Vetere,  Mithraeum & Museum 
Royal Palace of Caserta and Real Park