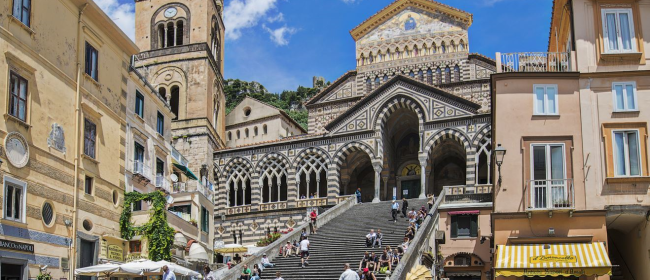 Five Senses Experience
A unique experience created to surprise all your senses!
There is a reason if it's called "Amalfi Coast": Amalfi is the very center of the Divine Coast with all its beauty and rich history…
A little bit of history…
First mentioned in the 6th century, Amalfi soon afterwards acquired importance as a maritime power, trading grain from its neighbours, salt from Sardinia and slaves from the interior, and even timber, in exchange for the gold dinars minted in Egypt and Syria, in order to buy the Byzantine silks that it resold in the West. Grain-bearing Amalfi traders enjoyed privileged positions in the Islamic ports, Fernand Braudel notes.
An independent republic from the 7th century until 1075, Amalfi extracted itself from Byzantine vassalage in 839 and first elected a duke in 958; it rivalled Pisa and Genoa in its domestic prosperity and maritime importance before the rise of Venice.
In medieval culture Amalfi was famous for its flourishing schools of law and mathematics. Flavio Gioia, traditionally considered the first to introduce the mariner's compass to Europe, is said to have been a native of Amalfi.
But this particular tour has been created to show you a different side of the town… the side that will catch first your eye, then your touch, the hearing, the smell and also your mouth!
 The tour will start in the morning from the highest point of the "Valle delle Ferriere" path, in Pontone town: with  the company of our expert guide you will be able to admire the beauty of this ancient valley, with the colors and the sounds of the nature. You will see the diverse types of plants and trees that form the well known Valle delle Ferriere:  a State Natural Reserve established in the 1972 to protect endemic species like the fern Woodwaria radicans and the salamander Salamandrina terdigitata. Magical place where there is a special microclimate that hosts vegetation of mixed forests of alder and hornbeam. At the end of the path, there will be a stop at a picturesque farmhouse with a little taste of its natural local products.

Then it will continue with the vist at the Amalfi Paper Museum, to discover the techniques of the ancient type of paper made exclusively in Amalfi. Paper handwork was first learnt by the Arabs in about the 12th century. In those years the Amalfi people had continuous commercial contacts with all Mediterranean people and the new means for writing, much more practical than parchment, was very useful to transcribe the very numerous transactions that Amalfi merchants carried out at their own home or in all the ports they landed.
After this experience, it will be a pleasure for our guide to take you exploring the "taste feeling": a delicious meal in a picturesque local restaurant will be proposed to you!
Let us amaze all your senses!
Extra costs: Transfer if requested