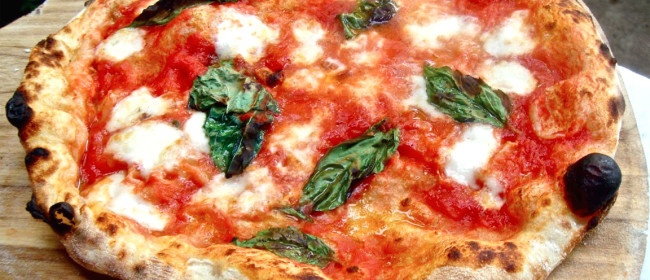 Pizza School
Another gem in the wide Neapolitan Cuisine: Pizza! From the color of our flag, green, red and white, enjoy with us the experience of pizza-making, discovering all the secret behind the original recipe!
We are proud to suggest you an enjoyable course, not to be missed, a very funny experience for adults and children that will give you the chance to learn and cook the original Neapolitan Pizza with a proved dough made in the traditional method.
We will explain you step by step all the secrets to make the best pizza.
The first step will be the choice of the ingredients, then you will attend to the correct technique for the dough's preparation. At the end you will take part to the packing and the cooking procedure of the pizza. After the course you be able to enjoy and eat with your friends and family the pizza that you made.
Course time:
About 3 hours
Available:
Monday/Friday – from 4:00 pm till 7:00 pm
Number of partecipants:
Minimum 2 people
A bit of history…
Pizza has very ancient origin, almost 3000 years of history, and it was a fundamental food for Mediterranean civilization, thanks to a dough of cereals, water and various seasoning. The culinary tradition of ancient Egypt, Greece and Romans had some examples of flat breads that we can compare to the pizza. In ancient Egypt they used to celebrate pharaoh with a flat bread with aromatic herbs, in Greece they used to eat different kind of pizza called "maza", in ancient Rome Empire they made different sort of flat breads called "placenta" and "offa", made with water and barley. We found the word "pizza" in high medieval period and then in the next centuries. Lombard civilization that came in Italy after the fall of Roman Empire, brought with themselves bufala, important for the mozzarella. In modern time, the discovery of the New World brings a very important ingredient for the pizza: tomato.
Between sixteen and seventeen century pizza became very important for Neapolitan kitchen; in 1700 it was made in wood ovens and sold in streets, then people became to eat pizza directly where the ovens were placed so they became the first "Pizzeria". A lot of artist like D'Annunzio or Dumas wrote about pizza! Then, 1889 was a very important year for pizza, due to the most important pizza-maker in Naples, Raffaele Esposito, who cooked for King Umberto and Queen Margherita three different kinds of pizza; the favourite of the Queen was the one with tomato, mozzarella and basil, so he named it Pizza Margherita. At the beginning of 1900, pizza reached the USA, thanks to the people migration and then during the century, all around the world.