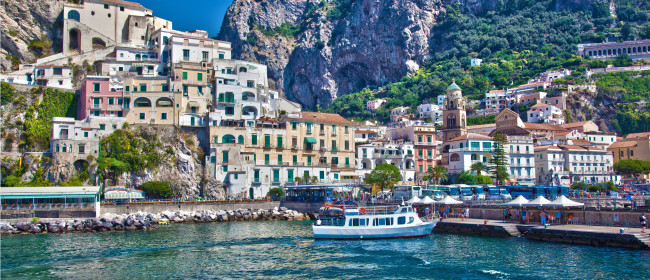 Private Boat Exursions
You will enjoy unique experiences on board of our Boats providing you total comfort, giving the opportunity to visit the extremely enchanting beauty of the Amalfi Coast corners a bays. Our team has created an accurate selection of boat excursions that will capture your mind and your soul
You could choose among a wide range of Boat excursion:
First of all, the classical Coast Tour, made to reach the most important points of the whole Amalfi Coast, to discover the hidden treasures that this land offers and that only our passionate Captain can show you. Let us carry you in a dream made by tiny beaches and ancient stories, all framed by the sun and the colors of our region.
Possibility to choose between half-day or full-day tours.
If requested, the tour will have, as final destination, a visit at the famous Emerald Grotto
We have also thought about our most romantic guests with emotional excursion chasing the sunset along the Coast, sipping flutes of prosecco!
This charming tour was especially made to make your most important moments happen in the best way possible, with all the care that they require.
      Then we have provided a tour to
Capri
, the island of love! Also, in this case you may choose between an half-day or a full-day tour.
Our crew will take you on the beautiful world-wide known Capri with its wonderful natural beauty, deep-rooted history, mild climate and bright landscape; the flora, one of the richest in the whole of Italy, gives the island a lush appearance even during the cold season. Similarly, the island's fauna, which includes a large number of marine species, enrich its deep waters.  The superb architecture of the churches and monasteries that can be admired in the two century onwards, reminds the fact thatartists, intellectuals, writers, exiles, eccentrics and wealthy visitors chose it as their permanent or seasonal residence.        
Our Boats will give you the chance to organize personalized excursions and you will be assisted by  professional staff ready to satisfy any of your request.
Let the magic of the sea takes you on an unforgettable experience!