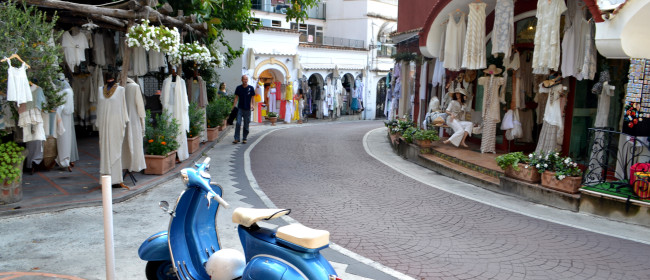 Rent a Scooter
Good weather day? Too much traffic? Looking for a fast solution to catch your friend? We know well how to answer all this question... rent a scooter!
Rental Scooter
We are glad to include between the long list of provided services, a ingenious alternative to the car rental. Great option for the ones searching for an indipendet yet easy vehicle to move along the coast's roads without have to worry about boring things like traffic or no place where to park! To rent a scooter is a very convenient idea for people that want to enjoy their staying with the assurance to may choose when to ride but also when to stop… even just to take a photo at the beautiful view!
TECHNICAL FEATURES
Presentation of the model . Structural details , engine capacity and specific professional accessories included :
Kymco Agility scooter
Four-stroke engine of 125 cc .
Double disc brakes
Double shock absorber
Automatic Transmission
Fuel Unleaded
Halogen headlights
Large helmet compartment
Satchel
Scooters must be returned always with a full tank, otherwise it will charged as an extra. All scooters have GPS (unlimited mileage) and are delivered with special cap, already included in the rental rate. For the guidance is required, obligatorily, the driving license and the identity card/passport and our staff will handle the delivery and the pick-up of the scooter: for Ravello, Maiori and Minori, delivery & pick-up are free; for Amalfi, Atrani, Positano, Praiano, Furore, Scala, Conca dei Marini, Vietri sul Mare and Cetara, delivery and pick-up are considered as an extra. 
The cost of extra fuel, possible fines and parking are charged to the customer; for any damage to the wheels and the vehicle in general, the customer is required to pay damages.
Scooter equipped with Go-Pro camera
Want to have a souvenir of your ride? Great news! 
Why not rent a scooter to reach your lovely destination, fully equipped with a Go-Pro Camera? Go-Pro HD action camera is the most used in the world of sports, athletes and lovers of the motion shots. It can be placed everywhere on the scooter (on the helmet, on the rear top box or even on the front of the scooter). The camera is shock resistant and water resistant up to 60 meters.
TECHNICAL FEATURES
Performance and accessories GoPro 3 Black Edition. Equipment, shooting mode, video recording capabilities and quality photos:
Weight: 74 grams

Video mode: 1080p, 960p, 720p, WVGA

Video Format: H.264 codec (.mp4)

Photo mode: 5MP (2592 px x 1944 px)

Battery: Lithium Ion rechargeable

Audio: sampling 48 kHz – AAC

Storage: MicroSD Class 10 64GB
Example of a GoPro video in Amalfi Coast:
Photoshoot in Vespa
For the most nostalgic one, we also provide a very unique service: we put at your disposal, for your photoshoot, a real Vespa scooter! Have you ever thought about having a special wedding photoshoot riding a Vespa, the most iconic dream of the "Italian Life-style"? Don't miss the chance!
You just have to choose the location: Vespa can be rent for couples of spouses, special events and ceremonies in the whole Amalfi Coast!