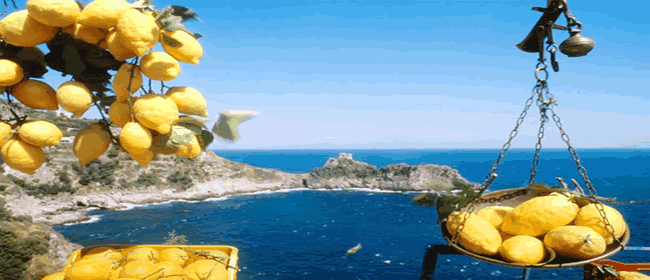 Lemoncello Tour
If someone would ask which color best represents our Coast, the answer would be immediate... yellow! It's the color of our lemons that light up our terracings, inebriate our noses and that delights our mouths. Welcome discovering the Sfusato Amalfitano and all its hidden world
The Tour consists of the visit to the Limoncello Factory with
elucidations about the typical "
Sfusato Amalfitano
" lemon, and production steps of different liqueurs. The visit to the Factory will ends with the limoncello and the typical local liqueurs tasting and a small dessert with aperitif. For the Lunch Time you will reach the Restaurant "Il Giardiniello" where you could savour the typical lemon plates of the local culinary tradition  with the Amalfi Coast Limoncello . You could exclusively buy the liqueurs at the Limoncello Factory. The LimoncelloTour will have a time of about 3 hours. At the end of the Tour we will offer to each participant the Limoncello Recipe, printed on the hand crafted Amalfi Paper.      
About the Sfusato Amalfitano…
  The precious yellow nectar, well known in the entire world, is the result of the magic mixture of "Sfusato Amalfitano" lemon skin, water, alcohol and sugar. The lemon yellow and wrinkled skin is rich in essential oils and very strong flavouring. It is, in fact, the main ingredient of the Limoncello production. The Mediterranean climate of the Amalfi – Sorrento Coast makes it possible the growth of the yellow and wrinkled skin lemon. The first Limoncello production is disputed between Amalfi, Sorrento and Capri inhabitants and there are many legends about its origin. The Limoncello liquer was born at the beginning of the 20th century and it boasts an exclusively hand-crafted production.  Everybody knows the digestive properties of the Limoncello and this is the reason of its great success on the international markets. The Limoncello can be simply prepared at home by using small genuine ingredients.  
Limoncello Factory 

opening time:            


Tour:
60 minutes
9:30 to 12:30
Monday to Friday                                                                                         
Tour Tasting:
120 minutes
Meat Menù
Fish Menù 
The Tour  includes:
Visit to the to the Limoncello Factory, the Limoncello/local liqueurs tasting with a small lemon dessert, aperitif  and  lunch selected.
Extra cost :
Transfer service if requested